---
Welcome to CrossHare
CrossHare is a little utility that places a crosshair/reticle onto whatever is displayed on a monitor. For example, if you had a live camera view (from a telescope) on your screen, you could place CrossHare over it and monitor it's guiding status. CrossHare also functions as a mini-screen grabber. Each time you click on the little camera icon in the corner, whatever image is behind CrossHare will be captured to disk.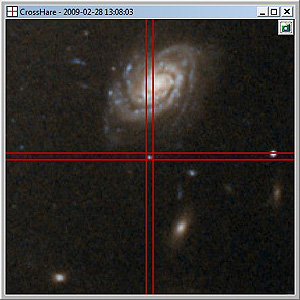 Other features of CrossHare include:
ability to turn crosshair on or off
ability to capture the inner portion of CrossHare or include the entire form with Date/Time stamp
ability to set the preferred amount of Jpeg Quality/Compression
ability to start an automated Capture Sequence on a timed interval
all captured images are stored in a single folder
Another use for CrossHare is to turn the crosshair off and use it to capture screen shots for ducumentation purposes.